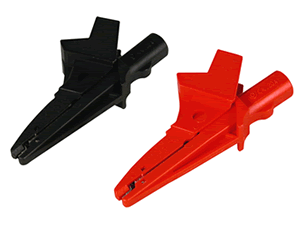 Clips
A complete offering of the most desired electrical test clips and electronic test clips including alligator clips, miniature alligator clips, crocodile clips, battery clips, heavy duty clips, general purpose clips, telecom clips, and many more. The most complete crosses to Mueller clips. (Mueller is the registered trademark of Mueller Electric Co.)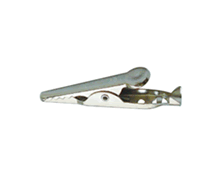 Alligator Clips
Cal Test Electronics has a very large selection of alligator clips, in numerous colors, sizes, connection configurations and material type. We offer miniature alligator clips, miniature alligator with barrel and threaded barrel clips with or without insulators. An alligator clip is a type of spring-loaded clip. Commonly used in making temporary electrical connections, alligator clips have serrated jaws. Alligator clips with crimp or solder connections.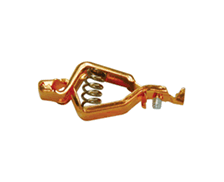 Spring Clips (Crocodile)
Our selection of crocodile, alligator, and spring clips range in size from very small used in electronics, mid-size for automotive analyzers, meter testing equipment, and geophone/seismology testing, and large heavy duty clips for battery test, earth and grounding applications and welding. Clips available made from solid copper, zinc-plated steel, or copper plated steel with and without braided copper shunt.
Kelvin Clips
Kelvin clips are used to perform four-terminal sensing and is also known as Kelvin sensing (4T sensing), 4-wire sensing, or 4-point probes method is an electrical impedance measuring technique that uses separate pairs of current-carrying and voltage-sensing electrodes to make more accurate measurements than traditional two-terminal (2T) sensing. A Kelvin clip, is often a crocodile clip, that connects a force-and-sense pair when it closes onto a conductor.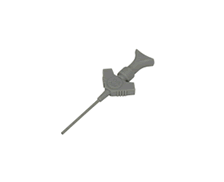 Surface Mount Device (SMD) Tweezers & Test Clips
From the MicroClip Test Clip, which can access and IC lead down to 0.45mm (0.018") pitch, to the SMD Tweezers for handling monolithic components, our selection allows you to make the connections required.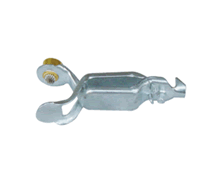 Bed of Nails (Telecom) Clips
Cal Test offers circular. angle and straight nose variants with bed of nails, single spike or both. This type of clip features some combination of alligator or circular pattern clip that connect to bare wires, and a piercing spike or "bed-of-nails" to pierce insulated wires. These type of clips are utilized by the telephone industry for test sets, butt set or buttinski, but are used by anyone needing to pierce the wire insulation cutting the insulation.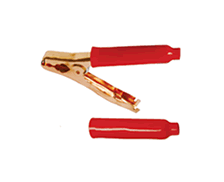 Plier-Type Clips
Plier type clips utilized by the automotive industry for battery chargers, jumper cables, and smaller applications. The plier type clips are also used in welding applications, they come insulated with braided shunt or Kelvinized isolated jaws with no shunt. Many sizes to chose from in either zinc-plated steel, copper plated steel, or solid copper.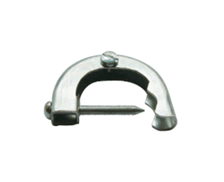 Grounding Clamps
Attaches to diameters up to 1-3/8". Screw connection.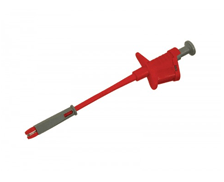 Digital Multimeter Clips "Flexible clips"
Safety clips for all your DMM testing applications. Attaches to a 4mm sheathed banana plug lead.